October, a month dedicated to cyber security awareness
2022-12-01
2 minutes, 12 seconds estimated reading time
Cybersecurity
October Cyber Security Awareness Month is an international campaign. It marks the entire month of October each year. Its goal is to inform and educate the general public about the dangers of cyber attacks and how to protect against them.
In 2004, the President of the United States and Congress declared October as Cybersecurity Awareness Month.
CISA (Cybersecurity and Infrastructure Security Agency), NCA (National Cybersecurity Alliance), and experts are working closely together to raise public awareness nationally and internationally. The collective effort is important to prevent cyber intrusions and scams.
In Canada, the first public awareness campaign was conducted in 2011. These  »Think Cybersecurity » campaigns are led by the Canadian Cyber Security Centre. Its objective is to ensure the protection of the digital landscape and that of citizens online.
In Europe, the first edition of the European Cybersecurity Month  »ECSM » is launched in 2011. The event is initiated by ENISA, the European Union's cybersecurity agency. An annual cyber awareness campaign throughout the European Union.
Africa is not left behind, since many initiatives launched for the population, especially young people, by the authorities and security agencies of the continent's countries to raise awareness of the risk of fraud, phishing and invasion of privacy.
As we all know, cyber attacks are becoming more and more frequent. The figures provided by CISA and IBM support the warnings of the specialists:
47% of American adults have had their personal information exposed;
Consumers worldwide lose an average of $358 and 21 hours each year to deal with the consequences of cybercrime;
75% of consumers will not work with a company they do not trust. They believe that data protection is paramount;
The average total cost of a data breach for Canadian businesses in 2022 was approximately $7.3 million (IBM 2022 Report).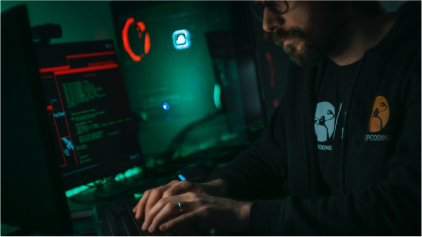 Cybersecurity is a complex and difficult topic to understand. It is important to focus awareness actions towards people. They will be able to develop reflexes in their daily life at home, at university and at work.
We have summarized for you some practical advice to be adopted by all:
Always ask yourself the question, should I click on this link? If a link looks a little strange, don't click it. It could be an attempt to steal your sensitive information or to install malicious software;
Update your software;
Use strong passwords: choose long passwords ideally generated in a random way. Also use a password manager to generate and remember different and/or complex passwords;
Enable multi-factor authentication: this method will reduce the risk of hacking since it will require more than the password to access your account and data.